1979: First presentation @ Tokyo bike show.
1980: Beginning of sale of RD250LC in May in UK and in Japan for RZ250.
1981: After problems, new cylinders, new carbs setting , new exhaust mounting on cylinder, add engine steady bars . New black model for Europe. Beginning of sale in Australia.
Japan
Europe
1982: New coloring with 3 strippes and an exclusive 3 red strippes for Australia since RD250LC had only red strippes.
1983: New model and coloring (with only a little number of common parts with the old version) with new YPVS engine with thermostat (new cylinders, pistons, cylinder head and new carburettors), new exhaust , new frame, new front fork air assisted, new rear suspension monocross (instead of cantilever), new swinging arm, new slotted triple disc brake (with rear disk instead of drum), new wheels with tubeless tires, new fuel tank, new seat, new handlebars, new footrest bracket, new instrument console, new lateral cover & bikini fairing, new front fender, new front light .
Europe (Switzerland, Italy and Finland only)
1984: New colorings and new model (one with integral fairing) for Japan (1 year earlier than for Australia...). New instrument console with electronic RPM tachometer , new swingarm, new front fork, new brake calipers with opposed pistons, new fender, new front light, new indicators. In Japan, the bottom of the fairing was not sold as serial equipment but was an option ! For Japan, new pipes with removable baffle/end cans.
For Japan, Carburettors with the 2 throttles commanded by 2 linkages connected to a pulley (and 2 push and pull cables: push to close and pull to open the throttle "desmodromique" system). The cover of the carbs are not screw but held on by 3 screws. The two carbs are bolted together with two brackets.
Europe (Switzerland, Italy and Finland only)
1985: For Australia new full faired version and pipes with removable baffle/end cans from Japanese model. No more sold in Europe !
1986: New models and coloring (one with fairing), with new frame , new rear shock, new fuel reservoir (air craft style cap) , new pistons, cylinders, cylinder head, new ignition & YPVS settings, new lateral cover (no rear handle bar, but still on picture below which are propotype pics), new seat, new indicators, new rear light, new footrest bracket and to save weight: new battery, new disk brake, new wheels.
1987: New black color for Japan.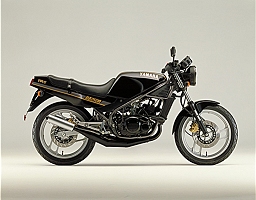 1988: New model for Japan with new wheels, larger tyres (100/80-17 front & 120/80-17 rear) , new front panel (speedometer, Tachometer, Engine temperature) , new head light bracket, new front + rear disks brake, new turn signals, new radiator cover , new fork, new front fender, new rear arm (10mm longer and 2mm wider) and new chain guard. New CDI which integrate as well the power valve controller.